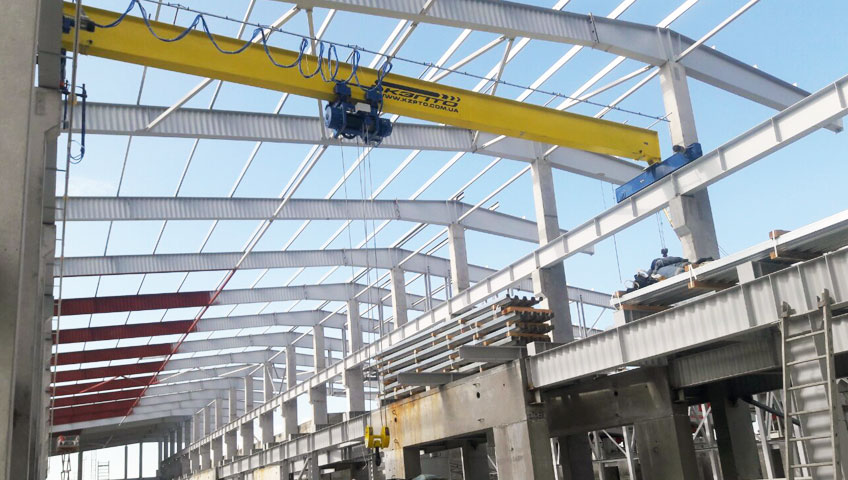 Crane-beam capacity 5,0t and overhead cranes capacity 12,5t enterprise timber
A team of specialists of «Kyiv Crane Machinery Plant LLC» successfully and in time completed work on the fabrication and installation of a number of lifting equipment for the largest enterprise for woodworking and production of wood products. It was delivered: crane-beam capacity 5,0t, overhead crane capacity 12,5t, hoist capacity 3,2t for installation on the monorail path.
All equipment is supplied with a complete set for the installation of "turnkey". As part of the trolley current supplies have been delivered to equipment supply cranes along the path of movement in the shop.
The main parameters of the bridge crane reference:
crane span, m: 14.5;
lift height, m: 9,0;
lifting capacity, t: 12.5;
group classification (mode) of the crane: A5 (ISO 4301/1);
lifting speed, m / min: 0 ... 4.0 (stepless, adjustable frequency, of Schneider Drive);
crane travel speed, m / min: 0 ... 40.0 / 60.0 (stepless, adjustable frequency, of Schneider Drive);
trolley movement speed, m / min: 0 ... 20.0 (stepless, adjustable frequency, of Schneider Drive);
voltage and frequency: 380V, 50Hz;
type of current: AC, three-phase;
tap color: orange (RAL 2000);
current supply on tap: the type with independent festoon hoist moving along the console crane (hard galvanized profile);
crane control: radio control, 5-way navigation + back-pendant;
electrical protection: IP54;
operating Temperature: - 20 / + 40 ° C;
climatic version: U3 (in the room).
Equipment:
end carriages Podem production (Bulgaria);
hoist production Podem (Bulgaria);
span bridge box girder design;
electrical equipment Schneider Electric / Mitsubishi Electric;
current lead in the shop trolley type MOBILIS ELITE (France) L = 108m.
Safety devices and accessories:
limit switches on the lifting and movement of cranes and hoists;
load limiter, the possibility of weighing of cargo;
thermal protection of the motors;
normally closed electromagnetic disc brakes on all engines;
frequency inverters on all equipment;
light, sound alarm.