For one of the largest enterprises in the Volyn region, the Kyiv Crane Machinery Plant LLC manufactured single-girder bridge cranes with vacuum grippers that can be used to work in tandem mode. The customer before our team was tasked with designing and supplying hoisting crane equipment capable of moving large-sized structures measuring 18x3.6 meters.

After studying the features of the technological process at this enterprise, our designers proposed the optimal technical solution and prepared a dimensional drawing, in accordance with which a phased work plan was developed, including the installation of crane equipment at the place of operation.
The main feature of these overhead bridge cranes is the possibility of their operation both individually and in tandem mode when controlled from one remote control. In addition, an outlet for vacuum gripping and its control is additionally provided on both cranes.
For a smoother movement and accurate positioning of the goods being transported, the Customer was offered the option of cranes that can operate at two speeds (thanks to frequency inverters). This solution also made it possible to significantly reduce the load on the metal structure of the building during acceleration and braking of cranes with moving cargo.
In addition, for the safety of staff and to avoid damage to the electric wire rope hoists, load limiters were installed. The radio control system of the cranes allows the operator-crane operator to control each of them individually, and both simultaneously in tandem mode.
In addition to the radio remote control, each crane is equipped with a redundant cable remote control on a quick-release connector, which allows you to non-stop servicing the process in the event of a discharge of the radio remote control or its sudden failure.
The wireless remote control system is an operator station capable of efficiently managing loading and unloading and lifting operations. It consists of such devices:
remote control (or transmitter), with which the operator transmits commands to perform certain actions;
a base station (or receiver), which is hardware-connected to the equipment - with its help, control commands received from the remote control are transmitted further and activated.
The tandem wireless remote control system is a combination of these devices, the exchange of data between which is carried out over the air. Additionally, the cranes are equipped with optical proximity sensors, which prevents the possibility of their collision during operation.
Application example of remote control on an overhead crane with 2 trolleys
| | |
| --- | --- |
| Type | Description |
| Single with 2 trolleys | Using the selector button, the remote control can be used to separately control the trolley 1, trolleys 1+2 or trolley 2. |
1 - remote control
2 - trolley 1
3 - trolley 2
4 - base station
5 - electric box
Remote control application example with 2 or more bridge cranes
| | |
| --- | --- |
| Type | Description |
| Tandem | Using the selector button, the remote control can be used to separately control the bridge crane 1, bridge cranes 1+2 or bridge crane 2. |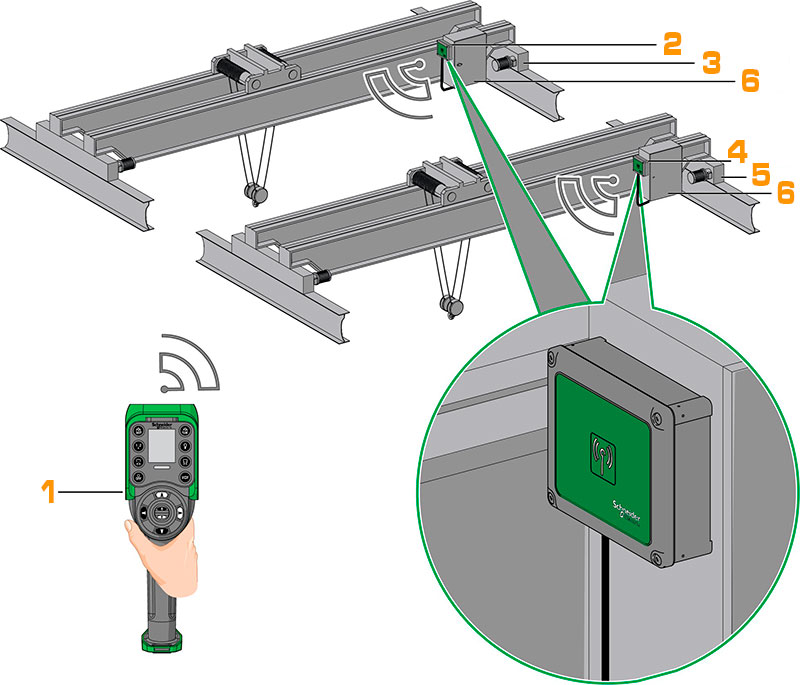 1 - remote control
2 - base station 1
3 - bridge crane 1
4 - base station 2
5 - bridge crane 2
6 - electric boxes
Work of bridge cranes in tandem
Мостові крани з вакуумним захопленням для роботи в тандемі

🔘 На Київському заводі ПТО для одного з найбільших підприємств Житомирської області були виготовлені мостові однобалочні опорні крани з вакуумним захопленням, які можуть використовуватися для роботи у тандемному режим. Замовником перед нашим колективом було поставлено завдання спроектувати та поставити вантажопідйомне кранове обладнання, здатне переміщати великогабаритні конструкції розміром 18х3,6 метра.➡️ Головною особливістю цих мостових опорних кранів є можливість їх роботи як окремо, так і у тандемному режимі при управлінні з одного пульта. Крім того, на обох кранах додатково передбачений вивід для вакуумного захоплення та його управління.📌 Детальніше - https://kzpto.com.ua/uk/mostovi-krany-tandem/

Опубліковано Киевский завод подъемно-транспортного оборудования Четвер, 4 червня 2020 р.
Technical characteristics of cranes:
marking - KMO-8.0-23.60-7.0-A6;
carrying capacity - 8.0 t;
lifting height - 7.0 m;
span width - 23.6 m;
lifting and lowering speed - 0 ... 4.0 m/min;
the speed of movement of the trolley - 0...20.0 m/min;
crane movement speed - 0...40.0 m/min;
group operating mode according to ISO or GOST - 3m (heavy);
degree of protection of electrical equipment - IP55.
Complete set of delivered crane equipment:
wire rope type MT, end beams, movement and lifting gear motors - manufactured by Podem (Bulgaria);
span bridge - a welded beam of a box-shaped structure with a width of the riding shelf 295 mm;
limit switch of raising and lowering;
limit switch of movement of the crane;
trailer switch of movement of a waist;
thermal protection of the lift engine;
light and sound alarm of the course of the crane of the Schneider 24V model;
load limiter;
main contactor in the circuit;
current supply to the crane - closed trolleys;
two-speed radio control system;
pendant control panel.
The delivered bridge cranes were mounted in the conditions of the existing production, then commissioning was carried out, at the end of which our installers conducted control tests with a load of static and dynamic loads. After that, a technical report was issued on the installation of cranes, as well as passport and authorization documentation for their registration with the authorities of the Volyn Expert and Technical Center.