«Kyiv Crane Machinery Plant LLC» has developed, produced and supplied lifting equipment for thermal power plants with a combined production of heat and electrical energy using solid fuel and gas boilers.

To start the work, the «Kyiv Crane Machinery Plant LLC» seconded specialists as part of a regional manager, designer, and chief of the service and installation service to compile a future project. After getting acquainted with the technical specifications, as well as with the installation conditions, our specialists have developed a draft of a grab crane, which is optimal for the specifics of the Customer's working site. A work plan was developed. All equipment is produced and delivered to the facility on time. Also with the crane all statistical and dynamic tests, tests are carried out. Installation, commissioning and inspection of the crane took only 5 working days. With the help of our crane, the normal operation of TPPs is ensured, and the energy independence of our country is achieved.
Delivered grab crane is used to load solid fuel boilers of thermal power plants with pellets of straw, wood chips, peat. The equipment is designed for intensive work in three shifts. The fuel burns in the boiler, heats the water and converts it into steam. This steam drives turbines that convert heat into mechanical energy. It, in turn, drives the generators that generate electricity.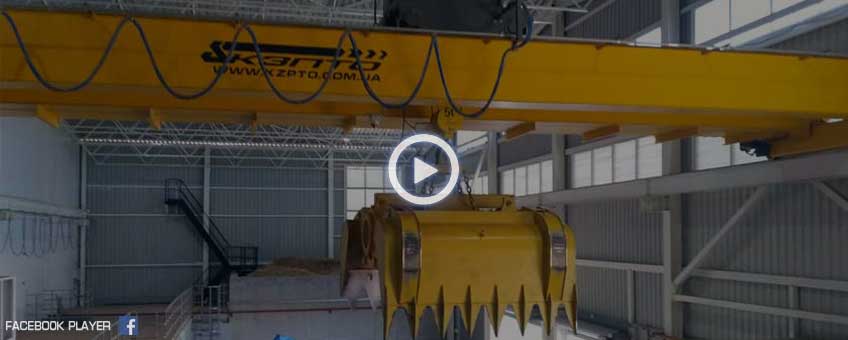 Main technical characteristics of the crane:
Construction - grab bridge crane
Capacity 5 t
Lifting height 12.0 m
Prane crane 15.450 m
Speed-lowering speed, m/min 0 ... 12 (Frequency converter)
Trolley speed, m/min 0 ... 30 (Frequency converter)
Crane speed, m/min 0 ... 40 (Frequency converter)
Electric cable and busbar supply systems to the crane - flexible cable with trolleys on the cable
Group mode of operation according to ISO or GOST - A6 (heavy)
Control - pendant control panel + radio control
Complete set of equipment supplied:
Lifting mechanism crane truck from «Kyiv Crane Machinery Plant LLC» (Ukraine)
Trailer beams manufactured by Podem (Bulgaria)
Movement and hoist gearboxes from Sew Eurodrive (Germany)
Span bridge in the form of a box beam of a welded structure
Electrical equipment is represented by frequency control of the hoist drive and movement
Additional equipment in the form of an end switch hoist, limit switch movement of the crane, light and sound alarm, Load limiter