On June 17, 2021, the Forum of Innovative Productions was held in the Bila Tserkva Industrial Park. This Industrial Park is located 75 km from Kyiv, in the city of Bila Tserkva. At its core, the Industrial Park is a unique investment project, the main goal of which is to create an optimal infrastructure and conditions for the stable development of Ukraine.
The Forum was held in a beautiful newly built premises with an area of ​​more than 5000 m², which made it possible to accommodate all the participants of the event in a very comfortable and safe manner. The main goal of the Forum is the development of manufacturing domestic enterprises through access to innovations, industrial parks, business accelerators, investment and partnership programs.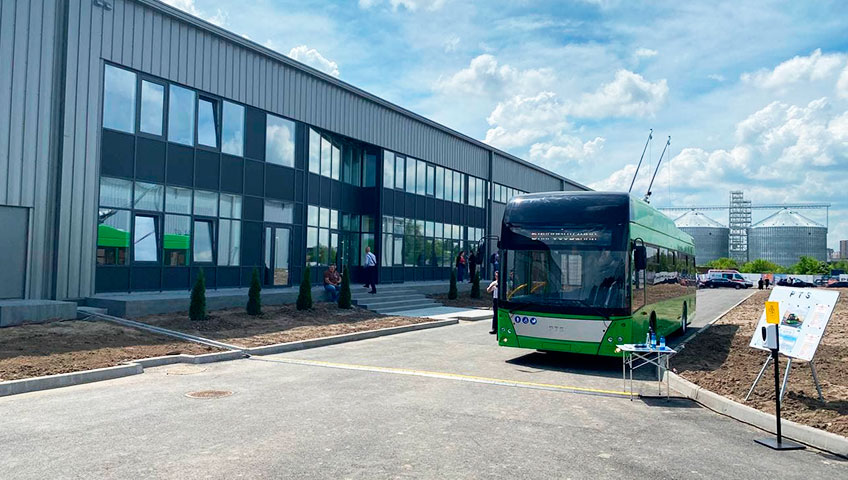 The speakers at the Forum were:
Oleg Urusky – Vice Prime Minister of Ukraine – Minister for Strategic Industries of Ukraine;
Dmitry Kisilevsky – Deputy Chairman of the Supreme Council of Ukraine for Economic Development;
Taras Kachka – Deputy Minister of Economic Development, Trade and Agriculture of Ukraine – Trade Representative of Ukraine;
Vasily Khmelnitsky – initiator of the KIEF (Kyiv International Economic Forum) and the Forum of Innovative Enterprises, founder of the UFuture holding company;
many well-known businessmen, owners and top managers of the largest Ukrainian companies.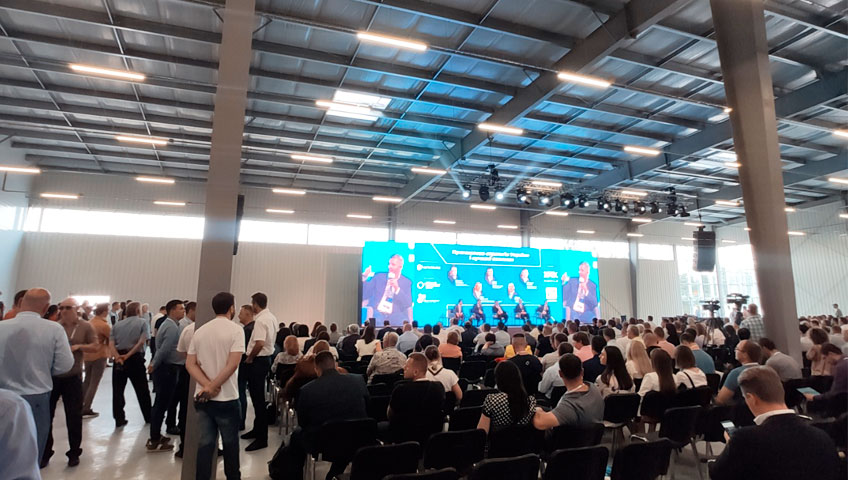 A large exposition of the leading Ukrainian innovative enterprises worked at the Forum. The latest products and developments of various industries and sectors of the domestic industry were presented here. It was an excellent platform for the exchange of experience and information of all interested specialists with those who develop and implement their ideas.
Of course, there was also a stand of the Kyiv Crane Machinery Plant in the exposition area, where many of our various products and components for lifting equipment were presented. In particular, the stand featured:
an electric single-girder overhead crane with a lifting capacity of 1 ton, equipped with an electric chain hoist;
flexible cable current lead on a cable;
flexible cable current lead on a rigid profile, type Festoon;
brake assembly for electric lift motor;
improved hook block with a lifting capacity of 1 ton;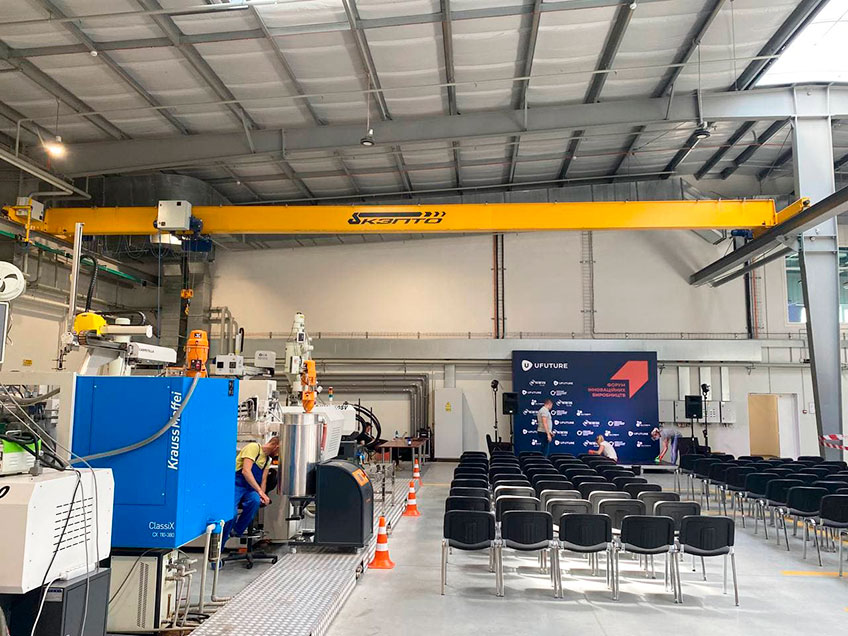 It should be noted that, despite the ongoing coronavirus pandemic, the number of enterprises that presented their products and developments at the Forum was quite large, and the number of visitors exceeded all expectations. Many of them showed great interest in the Kyiv Crane Machinery Plant stand, asked many questions about possible cooperation with our employees, who represented the plant at this event.
The participation of Kyiv Crane Machinery Plant in the Forum of innovative industries provided ample opportunities to interest many potential buyers, which will undoubtedly lead to the expansion of our presence in the market of crane lifting equipment. Thus, this event turned out to be the most useful from a practical point of view. The Kyiv Crane Machinery Plant once again confirmed its status as the flagship of the Ukrainian crane building industry, found new partners and is confidently marching into the future!